A Feast of Vietnamese Tapas
Curated for Delivery & Pickup in Santa Fe
Friday, August 6th, 2021
Pickup 4-6pm or Delivery 2-4pm or 4-6pm
Registration Deadline by Wednesday, August 4th
Nhậu ('neow') celebrates the essence of the Vietnamese Nhậu drinking and eating culture – the equivalent of Japanese izakayas or Spanish tapas. Nhậu dishes are small plates of foods that inspire the gathering of friends for feasting and drinking…for any reason!
The comfort of food that connects us.
I am delighted to BRING YOU an original curated menu that re-imagines Vietnamese Nhậu dishes. 
Your original menu of prepared meal will be available for pick up or delivered hand-packaged with reheating instructions.
(gf = gluten free, df = diary-free, v= vegetarian
BBQ Honey and Tamarind Grilled Pork Savory Donuts (df)
Vietnamese Pickles and Sesame Rice Crackers (gf, vg)
Fresh Pineapple Salad with Poached Shrimp, Jicama, Red Bell Peppers, Lime Dressing, Fresh Herbs (gf, df)
Grilled Ground Pork and Beef on Lemongrass Skewers, Rice Vermicelli, Fresh Herbs, and Nước Chấm – Vietnamese Dipping Sauce (gf, df)
Chicken, Ginger, and Rice Porridge, Confit Shiitake Mushrooms, Crispy Shallots (gf, df)
Grilled Bananas, Coconut Caramel Sauce, Toasted Coconut Sprinkles (gf, v)
The original Nhậu Vietnamese Tapas is $65 plus tax and delivery.
Quick Pickled Foods and Simple Syrups
Our Quick Pickled Foods are handmade using produce from the Santa Fe Farmers' Market, these quick pickled vegetables are great as a snack or to keep on hand to enhance you meal as a condiment or a side. 
Our handcrafted, all-natural syrups are made with organic cane sugar & either fresh organic ginger, organic hibiscus, or organic lemongrass. You can use these as a cocktail mix by adding to vodka, gin, tequila, rum, or sparkling wine. Or, make it a "mocktail" using seltzer or soda water or add some flavor to an iced tea – whatever suits your fancy! Each 12 oz jar of syrup can be used to make approximately 10 to 15 cocktails or mocktails.
You can also get creative and use our syrups in your recipes. Inject into layers of cake before you add your icing. Use them when you poach fruits like pears, apples, or peaches or add a drizzle to your fruit salad. Create marinades when baking or grilling fish or meat.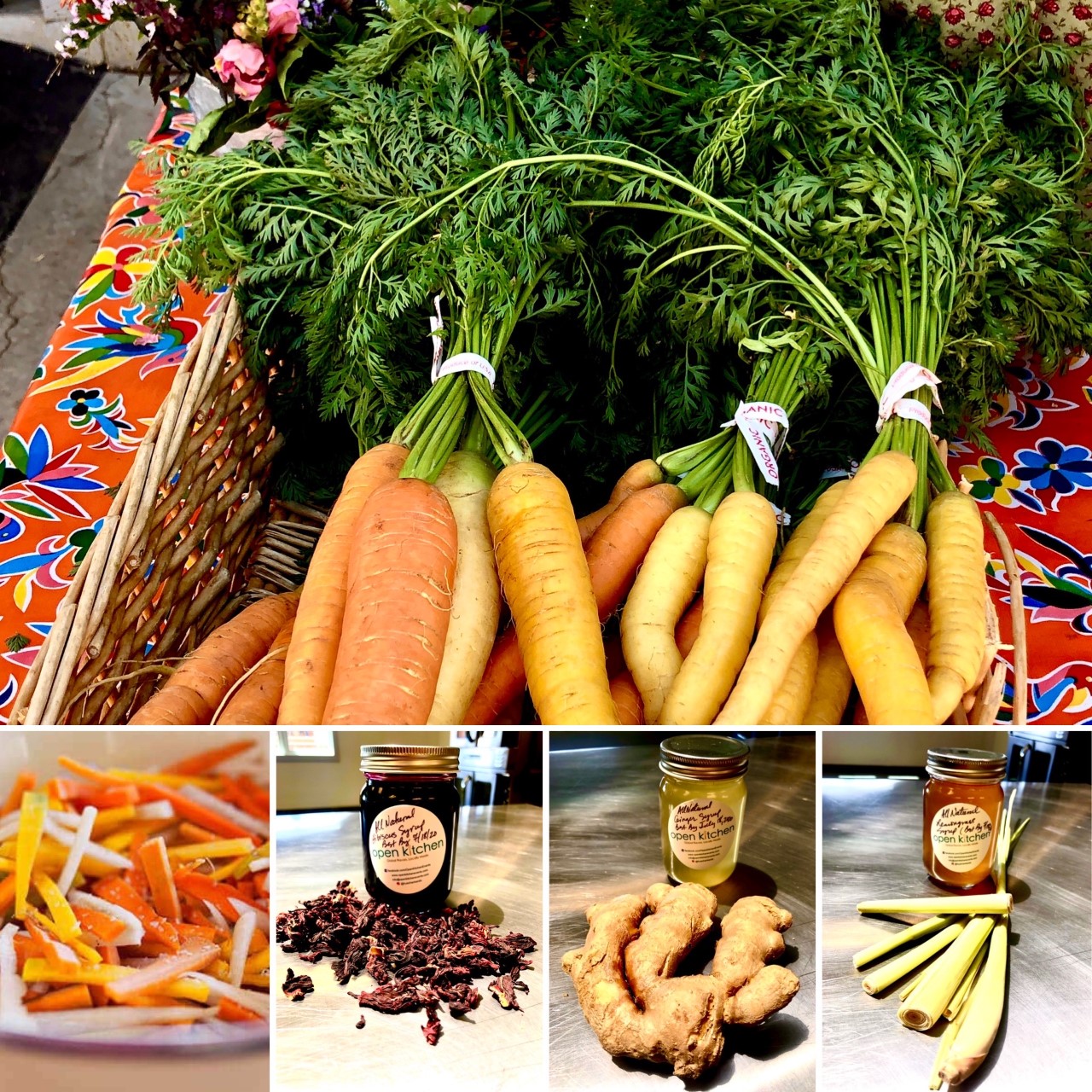 Vietnamese Rainbow Carrot Pickles
Add color, crunch, and flavor to almost any dish – salads, fresh rice paper rolls, tacos, burritos, sliders, sandwiches and more.
Ginger is an immune-boosting herb that has anti-inflammatory properties and is loaded with antioxidants.
Hibiscus flowers are packed with antioxidants which offer heart-healthy benefits, such as lowering blood pressure.
Lemongrass aids in digestion and helps you cope with cold, cough and flu and tastes amazing.
Quality & Safety
are our priorities!