Provençal Bouillabaisse Dinner
Available for IN-HOME Dining Delivery & Pickup in Santa Fe Friday, April 16, 2021
Registration Deadline by Monday, April 12, 2021
$65/person plus tax and delivery
BONUS! Registered guests will receive a private link of a pre-recorded video of Chef Hue-Chan Karels sharing the Art of Cooking & Eating Bouillabaisse (Hint- It's a 2-step process!) and Jeff Koscomb, Owner of Above Sea Level, sharing tips for buying the freshest seafood and the Art of Fish Filleting.
Also Available for PRIVATE Dining @ Open Kitchen
With Chef Hue-Chan as Your Private Chef and Open Kitchen as Your Private Restaurant
Brandade de Morue (Silky Salt Cod & Potatoes Spread)
Fennel, Radicchio, and Endive Salad Citrus Vinaigrette (vegan)


Bouillabaisse Marseillaise
Homemade Saffron Fish Broth with Assortment of Cod, Snapper, Grouper, Shrimp, Mussels, and Clams. Served with Rouille – Homemade Mayonnaise – and Garlic Croutons
Lemon Lavender Pots de Creme (vegetarian)
$65 plus tax and delivery.
Quick Pickled Foods and Simple Syrups
Our Quick Pickled Foods are handmade using produce from the Santa Fe Farmers' Market, these quick pickled vegetables are great as a snack or to keep on hand to enhance you meal as a condiment or a side. 
Our handcrafted, all-natural syrups are made with organic cane sugar & either fresh organic ginger, organic hibiscus, or organic lemongrass. You can use these as a cocktail mix by adding to vodka, gin, tequila, rum, or sparkling wine. Or, make it a "mocktail" using seltzer or soda water or add some flavor to an iced tea – whatever suits your fancy! Each 12 oz jar of syrup can be used to make approximately 10 to 15 cocktails or mocktails.
You can also get creative and use our syrups in your recipes. Inject into layers of cake before you add your icing. Use them when you poach fruits like pears, apples, or peaches or add a drizzle to your fruit salad. Create marinades when baking or grilling fish or meat.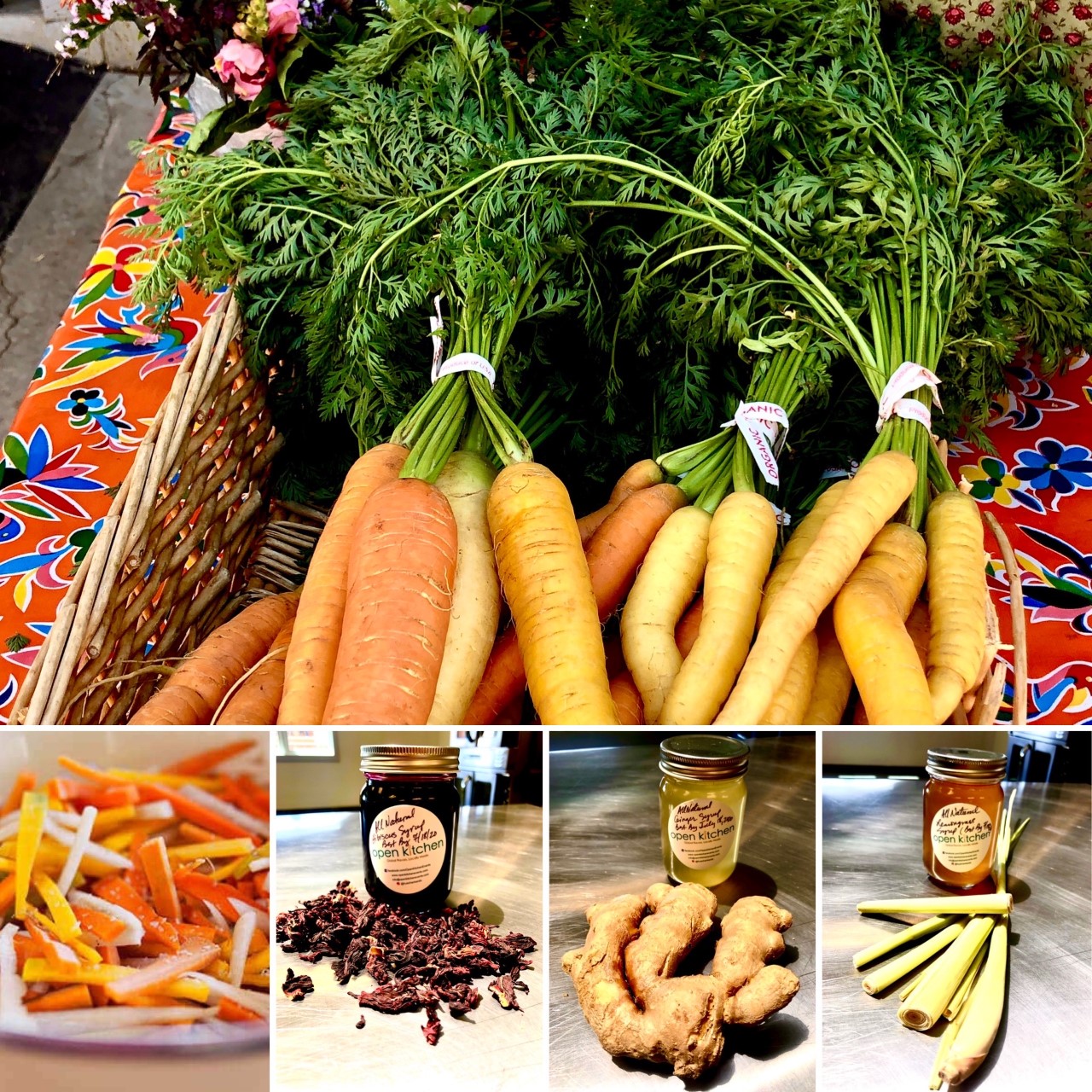 Vietnamese Rainbow Carrot Pickles
Add color, crunch, and flavor to almost any dish – salads, fresh rice paper rolls, tacos, burritos, sliders, sandwiches and more.
Ginger is an immune-boosting herb that has anti-inflammatory properties and is loaded with antioxidants.
Hibiscus flowers are packed with antioxidants which offer heart-healthy benefits, such as lowering blood pressure.
Lemongrass aids in digestion and helps you cope with cold, cough and flu and tastes amazing.
Quality & Safety
are our priorities!